Meet Dennis Creaser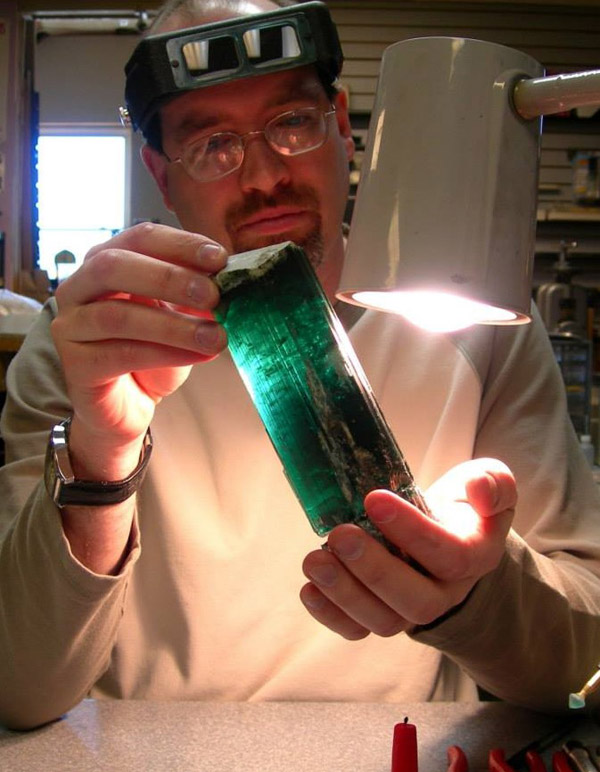 Dennis Creaser is a native of Maine. He was born in the small coastal town of Boothbay Harbor in 1966. Early on, he was enthralled by dinosaurs and fossils and accumulated piles of books and rocks before one of his aunts introduced him to the concept of gem cutting when he was around 12 years old. She taught him how to cut basic cabochons and as quick as he could save some money (and beg the rest from his parents), he bought his own cabbing equipment and began his "career" as a gem cutter. When he became good enough, he began selling his stones through local stores.
After several years, his interest waned somewhat as he went through High School. Deciding to become a musician, he attended Jazz school upon graduating and received an Associate's degree in 1986. At some point during his brief stint as a music student, he found himself walking through a Maine Mall one evening. A jewelry store window caught his eye for some reason and he investigated. Behind the window was an aquamarine gem set in a gold ring. The stone was from Albany, Maine of all places and the value of the piece was intriguing to say the least. He thought to himself "This gem was found right here in Maine... wouldn't it be the absolute coolest thing to actually find something like that?" The next week, he started doing research in the college library and was totally amazed at the sheer number of gemstone types that came from his own state.
As soon as the snow was melted enough to show bear ground on the coast, he set off for the Mecca of all Maine gem mines: the Dunton Quarry, the world famous tourmaline mine located a crow's flap from the Sunday River ski resort in Newry. He waded through hip-deep snow, climbing the small mountain in sneakers with a gym bag full of hammers and chisels, driven by the naive thought of gem crystals of all types lying in plain view on the mine dumps, ripe for the picking. At the top of the hill, small sections of the mine dump were cleared of snow and in one of these patches he found a small, ugly, shattered crystal of beryl. Not quite blue enough to call aquamarine and certainly not clean enough to cut, it nonetheless fueled an already raging passion for gem collecting and he greedily put in in his gym bag where it was further shattered by the hammers and chisels. Undaunted by its worthlessness, he scrabbled around in the dumps some more and was shortly rewarded with another nasty, ugly beryl specimen and a broken schorl tourmaline. Unknown to him, he was actually collecting in the Nevel Quarry, not the Dunton Quarry and so found no colored elbaite (gem tourmaline) that day. As it was getting late at this point, he called the day a major success and waded through the snow back down the mountain, after a short and fruitless attack on the wall of the quarry.
A week later, he was back and after a short episode with minor frostbite on one of his feet, he by chance stumbled upon the Dunton Quarry. The mine dumps faced south and so were free from snow, he was happy to see and as he sat on a rock to rest, a glint of green caught his eye. At his feet, sparkling in the afternoon sun was a tiny shard of bright green gemmy tourmaline. He blinked in amazement, it was breathtakingly beautiful, despite its minuscule size. A few inches away from it was an equally lovely, equally microscopic flake of pink tourmaline... in fact, as he got on his hands and knees and peered closely, nose practically touching the ground, he could see dozens of little slivers of gem tourmaline, the area was simply covered with them. Ecstatic, he collected a thimbleful in a short while and returned home as the light faded again. Later, drooling over his hoard of tourmaline dust like a pirate admiring his latest plunder, Dennis realized what he wanted to do with his life.
Upon Graduation from Jazz School (University of Maine at Augusta), he applied to Arizona State University. Why this school? It was located in a warm place, it was completely different than anything he had ever experienced, it had a decent geology department and the close proximity of his grandparents added a necessary safety net. He was accepted. Geology was hard. The mathematics was brutal. Chemistry alone finished him off as a geology major and he frantically considered any and all options. Upon closer examination of the ASU course guide, he found an interesting class located in the fine art section; "Beginning Jewelry". In fact, there seemed to be an actual major in jewelry available. He went to a counselor and inquired about changing his major to Fine Art. There was no problem what so ever and the next semester he was a jewelry major.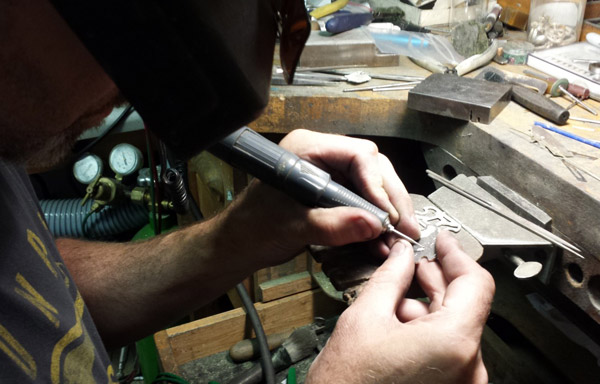 It was here, under the guidance of the late ASU metals professor, David Pimentel that Dennis began to learn about the various styles as were developed through history. His personal favorite was the Art Nouveau movement of the late 1800's-early 1900's. Rene`Lalique and Alphones Mucha were particularly inspiring. Also an inspiration was Carl Faberge`, famous jeweler to the Russian tsars, as much for his technical prowess as his design talent. Art Nouveau seemed the perfect art style, nature-inspired, balanced asymmetry, organic and eye pleasing, with unlimited potential for adornment and jewelry application. It's graceful, flowing language reinforced his growing conviction that art was meant to be beautiful and nothing more or less.
Three years later, Dennis graduated at the top of his class with a bachelors degree in Fine Art. During the previous summer month, he and his brother had been running a home-based wholesale gem business out of storage shed in their backyard. They would buy rough gem material from various miners, facet then into gemstones and sell them to different Maine jewelers. Upon graduation from art school, Dennis begun working for one of these mining companies, Plumbago Mining Corporation of Rumford, Maine. Plumbago was the company who had made the incredible discovery of tourmaline at the Dunton Quarry in 1972. As an apprentice to master gemcutter, Phillip McCrillis, Dennis honed his faceting skills while cutting hundreds of beautiful, glittering tourmaline gemstones. While at Plumbago, he also began experimenting with his own faceting designs eventually writing and publishing a book of new and improved gem cutting diagrams which focused on simplicity and effect. He also got tantalizing task of pegmatite mining at Mount Mica in Paris and the Saltman Amethyst prospect in Sweden.
In time, Dennis received another job opportunity from Perhams of West Paris as their chief jeweler. Here, he refined his jewelry design and repair skills and began to develop a portfolio of favorite pieces that could be reproduced with different gemstones. At Perhams, he also began to learn and appreciate the deep and wonderful gem heritage the Perham family represented.
During his time working at Perham's, Dennis experienced the intricacies and intrigues of retail marketing. The relationship between merchant and satisfied customer seemed to him to be ultimate compliment to an artist and craftsman and it became evident that owning and operating a retail jewelry store was something he needed to do to fully realize his career.
With regret, Dennis left Perham's in 1996 and began to work toward his goal by re-establishing the wholesale Maine gem business he had started during his college years. By building up funds, inventory and contacts over several years Dennis was able to finally open a retail location on Main street in South Paris in 1999. Joined by his wife Julie they have turned their love of gemstones and jewelry into a thriving small business which specializes in Maine gemstones (Maine Tourmaline, Maine Amethyst), fine jewelry and custom design. Dennis has dedicated over 30 years to gemcutting and jewelry design – and the pursuit of Maine gemstones. He facets and carves gems with one goal in mind: create the brightest, cleanest, most beautiful jewel possible. He designs jewelry to perfectly enhance, perfectly compliment a beautiful gemstone. Julie has over 20 years experience in business management and customer service and a lifetime of appreciation for fine jewelry. This combined with her knowledge of styles and trends, both current and traditional, guarantee their customers' satisfaction.