History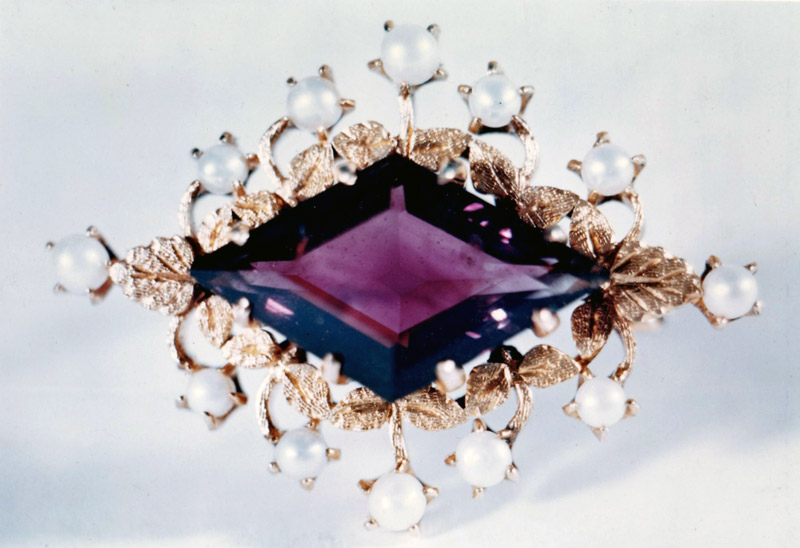 Every once in a great while, a human being is born who greatly and positively influences the world in which we live. George Robley Howe was one of those people. Born in Norway, Maine in 1860, Howe accomplished some truly remarkable things in his 90 years of life. He was an early Naturalist, before it was chic. He prospected the Pleasant Mountain area of Bridgton, Maine until he tracked down the Amethyst source rumored to be there. He coined the phrase "watermelon tourmaline" to describe crystals that were pink on the inside and green on the outside. He identified the world's first "rose quartz crystals" (found at Mount Mica in the late 1800s). There are some historians who cite convincing evidence that George Howe founded the youth organization which later evolved into today's Boy Scouts... and Girl scouts, for that matter.
But before Howe was so influential in the Maine Gemstone scene, he was many other things. We worked for an insurance company in Cleveland, Ohio. He was a reporter for The New York World and was involved in covering President Ulysses S. Grant's final days and the decision to make Manhattan the site of Grant's tomb. He was also a New York businessman for some time before meeting his future wife Emma Boardman of Hartford, Connecticut.
On April 11, 1888, George Howe and Emma Boardman were married and moved back to Norway. In 1890, they had a daughter, Marjorie. 3 years later, Emma took Marjorie and moved back to Connecticut. In 1897, George and Emma divorced. This event devastated George and he experienced a turning point in his life. Abandoning his business life, he took a job on a farm in Denmark, Maine where he learned that beautiful, gem-grade Amethyst had been found on Pleasant Mountain, not far from where he currently lived. Howe decided that he would track down the locality of the Amethyst deposit.
Some imply that searching for this lost Amethyst locality was Howe's healing time. The long hours and days he spent exploring the mountainside was time he did not have to morn the loss of his wife and daughter- or maybe he learned to accept their absence while cleansing his body and mind in the wilderness of Pleasant Mountain. This was a transitional time for him, from the man of business and the big city to the almost Thoreau-like lifestyle that followed his self imposed exile to the Denmark forest.
When he returned, he was a different man. And he had found the Amethyst deposit. By 1898, Howe had moved back to Norway and was achieving the reputation of a man knowledgeable in the field of minerals and gems. Also at this time, he was presented with an opportunity: all over the country, youth groups were being organized and Howe seized upon this fad to form his own youth group with help from his long term friend, Oscar L. "Shavey" Noyes. Together, the two men led groups of enthusiastic youngsters on nature trips where they studied flora and fauna and of course, minerals.
In 1850, a large and valuable pearl was found in a stream in New Jersey. The resulting "pearl rush" spread mostly west but also slowly north. Around 1900, Howe became very interested in the new hobby of "pearling" and discovered several brooks in Oxford County that contained pearl-producing mussels. His favorite river seemed to be the Crooked River which wound its way through Waterford, Norway and Oxford, eventually finding its way to Sebago Lake. He would sometimes take his youth groups on pearl searches and have contests to see who could find the first pearl of the day. Over time, he amassed quite an impressive collection of Maine Fresh-water pearls, some of which can be seen today at the Norway Historical Society Museum.
Pearls and Amethyst make such a beautiful combination- the contrast of sparkling, crisp purple and soft, glowing, creamy white somehow create a contrast that is much more than just the sum of the two. Howe must have felt this way also. On his parents' 50th wedding anniversary, he presented his mother with his best Amethyst, cut by either William or Robert Bickford in their Norway gem cutting shop and set in a lovely Art Nouveau style brooch with 12 closely matching Maine pearls. The gold used to make the brooch was gold he had panned himself from the Swift River in Byron.
And what an absolutely lovely thing his brooch was- a kite-shaped, deep purple Amethyst surrounded by tiny gold leaves, soft, white pearls positioned between them. Such an utter shame that it was lost in 1957.
The loss of the Howe Brooch is one of the great tragedies of Maine gemstone history. When George Howe's mother, Mary died in 1913, the brooch returned to George who then gave it to his mother's best friend, Effie Akers. It eventually ended up in the possession of her daughter, Ruth. In 1957, while attending a school trip to Boston, Ruth wore the lovely brooch and while touring Faneuil Hall, noticed that somewhere, somehow, it had become unfastened and had dropped off.
Project Description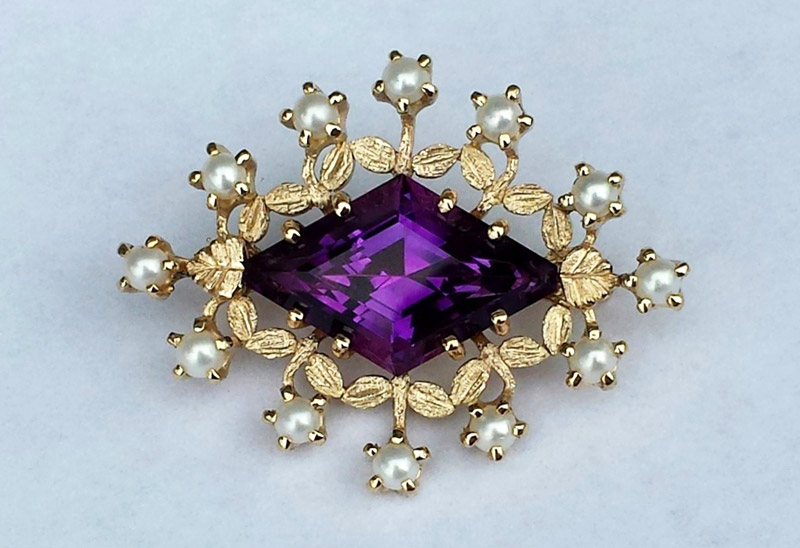 I first became aware of the Howe brooch around 1985 when I rekindled my past interest in lapidary arts and began researching the gemstones that came from Maine. It was Jane Perham's famous book "Maine Treasure Chest" which contained the only known image of the brooch, taken by the late Benjamin Shaub, a well known mineral collector and history preservationist. This brooch has fascinated me from the start. It is elegant and contains design elements from Art Nouveau movement (which is my favorite art style) but I think the contrast of colors and textures is what appeals to me most. Crisp, clean warm violet, surrounded by warm glowing gold accented by soft creamy white pearls. It is an exquisite piece. I was saddened to learn from Vandall King, noted Maine mineral and mining author/historian (who contributed greatly to my historical knowledge of the brooch) that the piece was lost.
What do you do when you discover that your favorite piece of Maine gemstone jewelry fell off someone's jacket onto the cobblestone streets of Boston 60 years ago and will likely never be seen again? You remake it, of course.
Ben Shaub did not provide a size reference when he took the picture probably mid-century, shortly before it was lost. This presented Jane with a dilemma when she wrote her book. She and her mother, Hazel, speculated for hours as to the probable weight of the Amethyst. Eventually, they decided on a figure of 50 carats, surmising that Howe might have used one of his best and biggest stones and knowing that his secret locality had produced gems of this weight and caliber.
Later evidence discovered by Van King in an early newspaper article proved that the weight was actually between 7 and 8 carats.
Stones of this size were readily available to me from my share of the Fourth of July pocket amethyst that my friends Jay Windover, Gary Howard and I had mined in 1993. It took three tries to get satisfactory stone which weighed slightly over 8 carats. The original stone was too shallow to reflect light properly (evidence by the dead area or "window" seen though the table in Shaub's photo). Correctly cut, with the same dimensions, my stone was the proper weight for its size.
In Shaub's photo, some design elements seem out of place. Some of the spacing between the pearls was uneven and the "stems" of the "flowers" that held the pearls were too long to be structurally safe to wear. Any amount of accidental bending would weaken the gold and eventually lead to the pearl element breaking off. Since I was correcting the cut of the Amethyst, I decided to "tweak" the pin's overall design as well.
The "flower" elements were cast in 14k gold from one original model which I shortened slightly. The setting for the amethyst was hand-constructed from 14k gold and the prongs soldered on afterward. The "flower" elements were then individually fitted into place and welded. The end "flower" elements were reinforced from the back and then from the front using the two single larger leaves that were also hand carved from small gold sheets. I salvaged a period-appropriate pin finding from an estate piece and welded it to the back. And lastly, set 12 matched 3mm pearls. Although I tried to locate genuine Maine river pearls, this proved impossible and I was forced to use our pearl supplier.
In the end, I found myself holding a replica of this wonderful brooch. It was very satisfying and I am confident that Mr. Howe and Mr. Bickford would have appreciated my efforts and their result.
I can't help but wonder if the original is still out there somewhere. Maybe someone found it and kept it all these years. It may be part of someone's jewelry collection, worn and enjoyed or part of an estate, resting in the darkness of a safe.
Wouldn't it be wonderful to find it? Just to learn of its survival, to know that this beautiful part of our local history survived and is still cherished. There is always a chance.
By Dennis Creaser
Gallery
Click any photo to enlarge. Mobile users: Swipe left/right to browse, swipe down to exit.
---